Dutch food shop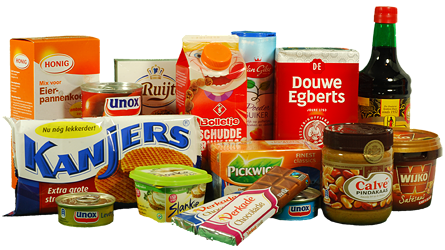 Have you been looking for a Dutch supermarket where you can order all your favorite Dutch groceries for a while? Then Real Dutch Food is definitely worth a visit. Because we have a wide range of Dutch products and food. We even have more than 3200 different products in our range. Think, for example, of our vegetables in a jar of HakKoopmans baked products, Dutch liquorice and other sweets. All this Dutch food is easy to order from our Dutch store online. But that's not all, also for magazines, books, party items and other various products you are in the right place at Real Dutch Food.
If you live abroad because of your work or just have a long vacation. It is often difficult to get or buy Dutch products and groceries. These are usually not sold in the local supermarkets, while it is still nice to occasionally eat really Dutch. It is also nice for your foreign colleagues to get acquainted with the Dutch products, they really do not know what they are tasting. But to get hold of these Dutch products, you can use the Dutch online store of Real Dutch Food. Wherever you live or work, we can simply send your order to almost any country in the world.
Why should you choose Real Dutch Food?
That's a question we'd like to answer. At Real Dutch Food you immediately benefit from ultimate ease of use. You can simply place your order anywhere in the world and we will send the package to you. You don't have to ask for a favor from friends or relatives. We do the shopping for you, pack it firmly and carefully and send the package to almost any location worldwide. Online payment is completely safe and easy and within a few weeks the package of our online store will be delivered to you. Did you know that you can all benefit from personal discounts, customer discounts and other interesting offers? You can also follow us on Facebook.
More benefits in our store for Dutch food
When you sign up or subscribe to our newsletter. In addition, you will regularly receive the newsletter with various attractive offers, which you can also benefit from. We know very well that the Dutch are frugal and we would like to make use of that. We are also happy to inform you about the weight of any order or package. The advantage is that you immediately see that you can order more products and pay exactly the same shipping costs.
Soon you will be able to enjoy all the Dutch delicacies again, how about those delicious sweets, toppings, Unox smoked sausage and delicious delicious waffles. All these delicacies are available in the Dutch store of Real Dutch Food.