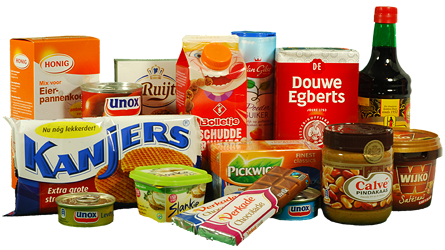 Order Dutch products
Have you been looking for a webshop where you can order the favorite Dutch products for some time? Where can orders be placed from abroad? Then it is certainly worthwhile to visit Real Dutch Food. We have a wide range of Dutch products and food. We even have more than 3,200 different products in the range. Consider, for example, the well-known jar vegetables from Hak, Koopmans pasta, licorice and other Dutch sweets. All these Dutch products can easily be ordered from abroad at Real Dutch Food. But that's not all, also for magazines, books, party items and miscellaneous items you are in the right place at Real Dutch Food.
If you live abroad because of your work or simply have a long vacation. Then it is often a difficult process to get or order Dutch products. These are usually not sold in the foreign local supermarkets, while it is still nice to eat real Dutch food now and then. It is also nice to introduce foreign colleagues to the Dutch products, they do not know what they are tasting. But to get hold of these Dutch products, you can use the Real Dutch Food web shop. Wherever you live or work abroad, you can always order Dutch products and we can ship the order worldwide.
Order Dutch products from Real Dutch Food
Ordering your favorite Dutch products is now a piece of cake. At Real Dutch Food you can benefit from ultimate ease of use. You can place your order with Dutch products anywhere in the world and we will send the package to you. You do not have to call in family members or friends to have a shopping package sent. Here in the Netherlands, we do the shopping for you, pack it securely and carefully and send the package to almost any location worldwide. Paying for this is done completely safe , easy and within a few weeks the package with the Dutch products will be neatly delivered to you. By the way, did you already know that you can take advantage of customer discounts and other interesting offers with us?
Advantages when you want to order Dutch products
When you sign up or subscribe to our newsletter to be kept informed of all discounts and offers. In addition, you will regularly receive our newsletter with various great offers, which you can also benefit from. We know very well that the Dutch are thrifty and are happy to respond to that. For example, we also like to indicate the weight of the parcel in question. The advantage of this is that you can immediately see that you can order even more Dutch products and continue to pay the same shipping costs.
Soon you will be able to enjoy all the Dutch delicacies again, how about that delicious old-Dutch confectionery, toppings, Unox smoked sausages and those tasty syrup waffles. All these delicacies and products from the Netherlands can be ordered at Real Dutch Food.