Order Dutch drinks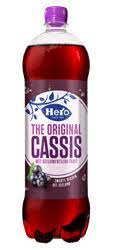 When you live and work abroad, it is often difficult to get Dutch drinks. Not only alcoholic drinks such as Jenever and beer, but also juices and syrups are often difficult to obtain in these foreign supermarkets. Unfortunately, as of 1-7-2021, it is forbidden to also sell spirits for online supermarkets. So we had to stop this. So our gin drinkers are out of luck from now on. So if you really can't live without the Dutch fruit lemonade, Leffe special beer or Jumbo fruit juices, order them online at Real Dutch Food. When you have placed an order, we will pack the Dutch drink carefully and firmly for you and then send it to your desired location. Whether you live in Dubai, New York or Tokyo, via Real Dutch Food you can always get hold of your favorite Dutch drink. To get the Dutch drinks, you no longer have toHakfriends or relatives. Real Dutch Food does the shopping for you, packs everything carefully for you and ensures that you have your favorite Dutch drink at home quickly. You can easily order all your Dutch drinks in our online supermarket, anywhere in the world. The range of Dutch drinks is wide and deep, so you can choose from over 150 different drinks. So there is something for everyone and, moreover, each product can be ordered per piece.
Take advantage of attractive discounts
If you want to import Dutch products from abroad, this entails quite a few costs. That is why you can take advantage of all kinds of offers and discounts at Real Dutch Food. Apart from our periodic offers. You can also subscribe to our newsletter to be kept informed of all discounts and offers. And what about our loyalty points? With these loyalty points you can save for even more discounts on future orders.
In any case, we think it is important that customers do not pay too much for shipping, which is why we use competitive shipping costs. In addition, we also like to indicate how many products can still be ordered before the shipping costs increase. This way you can order more at the same shipping rate.
Order Dutch drinks, easy and fast
If you place an order in the online supermarket of Real Dutch Food, you can pay in different ways. Such as with iDeal, bank transfer or international transfer. All payment options are completely safe so that nothing can go wrong. When the order is complete and payment is in order, we will pack the order carefully and firmly. We transfer this to the parcel service and within a few days or weeks you will have the desired Dutch drink at home.